EXERCISE AND CALORIE FITNESS Professional Health Club Wall Chart POSTER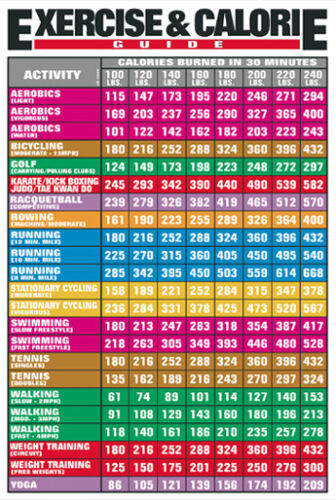 Sports Poster Warehouse Item #FI-F23A Description A great poster for the wall of your gym! This handy chart helps calorie-counters match up intake with burn rate, encouraging simple exercises that help work off meals and snacks. With eight weight classes and 23 different exercises listed, this chart will help virtually anyone with their healthy-body plan. Formerly available only to health club professionals; now available to the world from SportsPosterWarehouse.com! Perfect for home, fitness center, or nutritionist's office. From the world's leader in professional health and fitness wall chart posters, Bruce Algra's Fitnus Corp.

Poster Specifications:
Size: 24" x 36"
Published by Fitnus Posters Inc.
Condition: Brand New! Printed on premium-quality heavy poster stock.
Shipping, Terms, etc.
WE COMBINE SHIPPING! Order as many posters as you want (or DVDs) and pay only one LOW SHIPPING FEE! Standard shipping to Continental USA (1-2 weeks) only $6.95 - see below for full shipping info.

Bid with confidence - we are your premium, professional sports poster and DVD retailer, with over 10,000 in-stock items in our warehouse, dedicated to the highest standards of handling, shipping, customer service and support since 1997. No hidden fees, lowest shipping rates in the business, insurance included at no extra charge, and live toll-free customer service standing by.

Posters shipped in our EXCLUSIVE custom-made super-strong vacuum-sealed cap-end tubes, 100% guaranteed and insured not to warp or bend in mail. All posters are shipped from our warehouse in ORIGINAL OFF-THE-PRESS CONDITION - no lamination, mounting, framing or other added processes. All other products - DVDs, books, banners, etc - are also brand-new and shipped in safe containers for secure arrival. For more sports poster information, view our web site link in our "About Me" page:



About The Sports Poster Warehouse


We have shipped over 200,000 orders over the past decade, so rest assured your items will arrive in perfect condition, with the friendliest customer service in the business. You can reach our customer service center toll-free.


Secure on-line credit card payment for our eBay bidders - VISA, MASTERCARD and AMERICAN EXPRESS - details will follow in post-auction e-mail. If e-mail does not arrive, please call us to pay.


Standard USPS First Class/Parcel Post shipping to Continental USA (1-2 weeks): $6.95, AK/HI/PR/APO: $7.95. Standard Canada Post shipping to Canada: CDN$8.95. Outlying Canada: CDN$10.95. Standard Air Mail shipping to the rest of the world: US$15.95. Express shipping options to USA, Canada, and select International destinations available for additional charge. Giant posters and banners (over 25" in width) subject to additional shipping charge. One shipping charge covers all the posters you order - unlimited! (However, posters cannot be shipped together with other non-poster items i.e. DVDs or books. Shipping for these items, however, is the same). All Canadian bidders must pay GST, and Ontario bidders must pay PST as well.
---